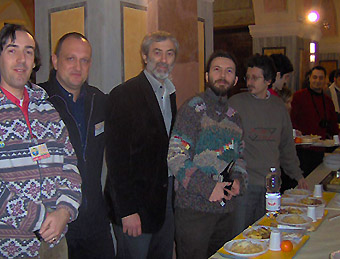 Paolo Cavallo, Angelo Porazzi, Walter Obert and Paolo Vallerga appreciating the excelent catering service of IDEAG 2006. Great choice of Walter that organized for second time this gathering. To group in same place three main ingredients: authors, games and food, to stay together on same tables and concentrate energies for two days of gaming "full immersion".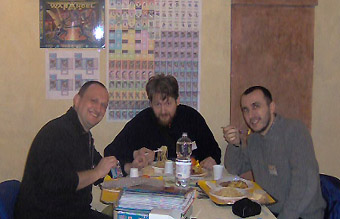 Angelo from Milano, Alessandro Dentis from Torino and "Italian autor from most far town" Silvano Sorrentino from Bari of daVinci, author of DANCING DICE and OSTRAKON. Often people ask us " but do you live on games?". For shure we EAT ON games. Silvano just asked me to try my new game of 2006 WRESTANGEL still in prototype with the test print-sheet you see on the wall. We just begun the match when arrived lunch time. After spaghetti, we finished the match and I had an excellent feedback from faces and comemnts of many gamers and expert authors such as Silvano that appreciated machanisms and fun in this card game.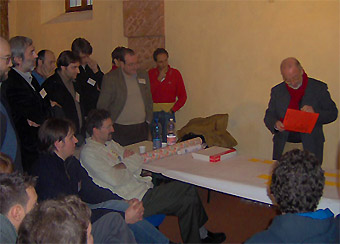 First afternoon of saturday 14 January 2006: Niek Neuvahl from Germany showing prototype of his latest game FULLHOUSE. Near the table Dario de Toffoli of Venice Connection from Venezia (of course). This is the nice thing of IDEAG 2006: international authors and of historical publishers like Venice Connection or Editrice Giochi with Spartaco Albertarelli, together with much younger publishers, together with gamers-authors showing their brand new prototypes for first time.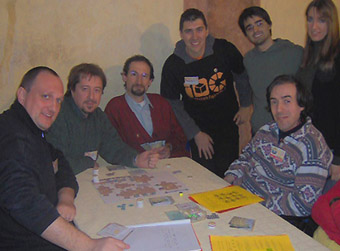 Here is first I played: LA LOCANDA DI LOONY (Loony's Lair) of Bruno Bono from Torino. Fantasy characters fights to control tables of the Lair, playing beer cards and most improbable objects to upgrade their brawls. I had Dragons and conquered the control of biggest table gaining 8 points, Marco near me with Ogres split his warriors on more tables and tied at 8 points but match was won by Goblins of Gianfranco that overcomed everybody in the final mega-rumble gaining at the end 9 points. Paolo with humans 1 point, Carlo Frittoli with Dwarves 4 Points. Did we have fun? Yes, a lot, and in my opinion for a game goliardic like this, fun is the main goal.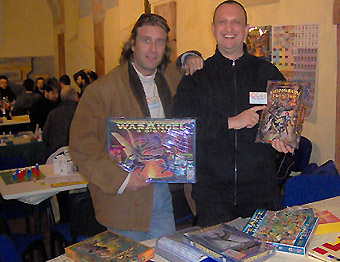 Here is Chris Boelinger from France, author of DUNGEON TWISTER game I saw at Essen Fair. He set down with great interest to see illustrated maps and counters of WARANGEL, asking me technics I use to paint them. It is always a pleasure to talk with people who know how much work there is behind games like Dungeon Twister or Warangel, that have so many races and creativity. His game and his warriors have a more "steampunk" style, while my game has a more "animal" frequence buth both games live on diversity of characters and boardmaps that gamers may choose to have always new matches.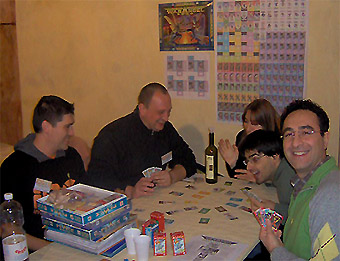 Beautiful the never ending saturday night, till 3 in the morning of Sunday. Here Bruno, Angelo, Sara, Mikimush and Massimo are having great time in a 5 players match with WRESTANGEL. Note the wine bottle on table: this is the right spirit to play at best this kind of games, obviously convivial and interactive, like PEACEBOWL you see on the left.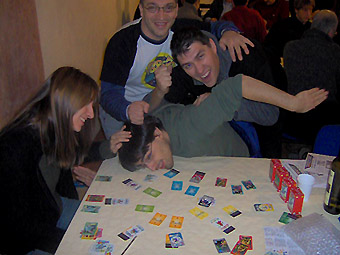 Her is Bruno "UnderCrasher" in a PIN phase against Mikimush "RayHisterio". The bluffing phase in WrestAngel where you must play three cards for the three second count reserved sequences really funny and breathless. I am really glad of feelings I have seen in eyes and words of gamers that played in the right mood, roaring their own war cries as requested by rules and having lot of interaction in the ring, formed by cards themselves.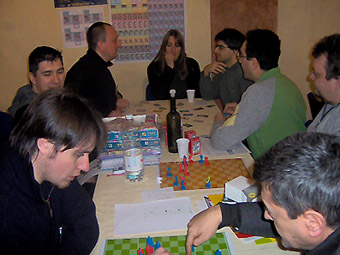 Here is GIANO, prototype "with two faces" realized by Mario Moretti from Terni. We played together in the afternoon this game with two souls, one dry and abstract on the green board, and one more fantasy, ambiented on the brown field with BloodBowl minias. Here Moretti is explaining the game to Mario Sacchi, Chess player and author of Post Scriptum, with the "abstract" rules that are good for gamers who love Chess or Checkers. A sole game, two ways to play it.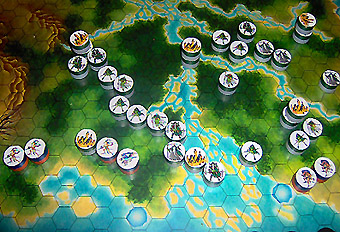 Together with WrestAngel, Massimo playtested also last races of Warangel that celebrates on 2006 his first 10 years. Here we see brand new TimeLords, race of 11th Generation mounted on new round woodenblocks, against Redskins of 6th Generation.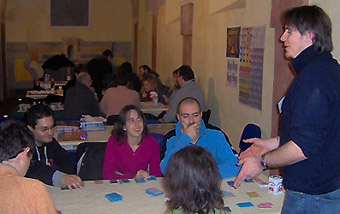 Always during the long night of Saturday, arrived new gamers who playtested the prototype partygame of Mario Sacchie and Matteo Panara, authors of BAUSQUITMIAO, ANGIOLETTI DIAVOLETTI. Can you see little Angel in cartoons that suggest you the right way while little Demon push you to play the nastiest things? This game is about this: gamers must create the story on driven cards and bet on choice of gamer in turn. Here Mario is acting as best his mastering, capuring the sight of the girls around the table... ah, the gamedesigners charme!:)
IDEAG 2006
GAME DESIGNERS GATHERING
14,15 january 2006, Piossasco TO
Walter Obert (organizator):
On 14 and 15 january in Piossasco (TO), in ex-church of Carmine via Roma, kept the annual meetings of game designers. Here is complete list of Authors. On www.inventoridigiochi.it further informations.


Niek Neuwahl
Spartaco Albertarelli
Christophe Boelinger
Angelo Porazzi
Dario De Toffoli
Silvano Sorrentino
Team Acchittocca
Alex Zucchini
Carlo Rossi
Andrea Mainini
Paolo Vallerga
Luca Coppola
Piero Cioni
Walter Obert
Matteo Panara
Mario Sacchi
Francesco Rotta
Marco Avarone
Francesco Berardi
Luca Bianchi
Bruno Bono
Luca Borsa
Paolo Mori
Franco Rossi
Walter Castagno
Gianfranco Sartoretti
Giacomo Sottocasa
Alberto "Salkaner"
Carlo Frittoli
Ivan Mosca
Enrico Pesce
David Zanotto


List of Publishers:

Angelo Porazzi Games
Cogito Studio
KDS
Post Scriptum
Rose & Poison
Scribabs
Tenkigames
Kidult
daVinci
Venice Connection
IDEAG 2006 WarAngelo PhotoReport
First WrestAngel prototype was presented at ModCon Modena 2005. Final prototype, complete with 70x100 test print sheet, was presented at IDEAG Piossasco on 14-15 january 2006, where I was hosted for second time by kind organizator Walter Obert, at my side in first picture.

The game was played by lots of gamers and authors that appreciated clean mechanism, graphic artwork, great interaction among players that may activate also during defensive phase. Always breathless and funny the Pin Phases with lots of bluffs and sequences of really high but also very low, winning numbers.

For who is interested in opinions of other gamers and authors, IDEAG is really usefull: one of the best idea is that after each test you can report on a sheet your votes from 1 to 9 and suggestions to improve each single game presented.
Here are impressions collected by WRESTANGEL at IDEAG 2006

easy - complex from 1 to 9 = 3,3,2,3,2,4,3,2,4,4

lead by luck - by ability from 1 to 9 = 2,7,7,6,4,7,6,4,6,5

boring - passionating from 1 to 9 = 6,7,7,6,8,8,7,7,7,8

not original-very original from 1 to 9 = 7,8,8,7,7,7,6,7,7,8

bad - nice from 1 to 9 = 8,7,8,9,8,8,8,8,8,7

title is not good - good from 1 to 9 = 5,9,9,9,8,7,9,8,8,7

Rules are not clear-clear from 1 to 9 = 5,7,7,8,9

After one year of playtest also this game is ready to go on print. In pictures see many of the meetings around the classic 70x100 print sheet to check colours, optimize formats, all elements you need to know when you create a game following each single production phase: from idea, to illustrations, to printed game.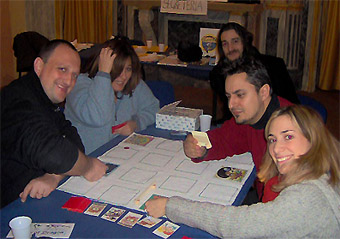 3 o' clock in the morning: noone can stop us. Here we are playing LICES, the prototype game of Chris Boelinger. Babies full of Lices move around the school and try pass their insects on other babies heads. Angelo is going to finish Monica who is already scratching her head, Willy is near to fall, Tinuz is watching the barrier you can place to avoid invasion from other heads, Paoletta confirms to be a great game explainer, calm and clear. Take example from people like her: do not be aggressive, understand who is around you, explain games not chocking in rules but having fun, always leaving people free in their choices. Never "you MUST do this" but "you CAN do this".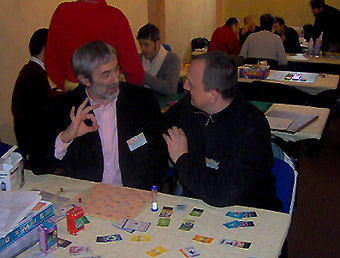 Walter Obert, great organizer of first two editions of IDEAG, calm, the same with everybody: another example to follow, not only as good game designer but also like person who is able to take the best from people around him. Here he is illustrating me his last prototype MIRAGE really outstanding and not only in my opinion. You must have eye on a squared grid to individuate the right cohordinates from where you "see" objects selected by cards. Reproduced the day after for my three baby girls. Comment of all of us: really a great game.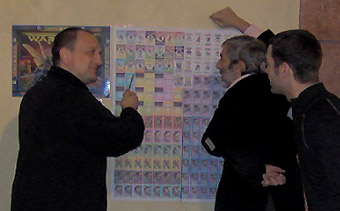 Walter and Francesco Berardi together with Paolo Mori, Mario Moretti and other interested, looked how is possible to "optimize" a print sheet. 84 cards of WrestAngel (exactly like TATATA!) fit the 70x100 standard print sheet at best. I explained to interested gamers how to "check" the colours on print sheet and other controls before to go on print. When you create, illustrate and realize your own game you need to learn all these stuff, to me is the more interesting thing: to follow every game in all his production phases, from A to Z.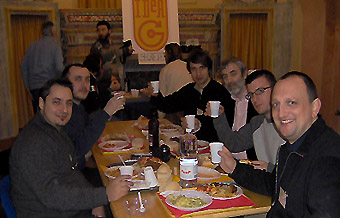 Here we are at sunday lunch: Tinuz with his MailingList GiocaTorino is connecting together lots of gamers from his town, Silvano ready for his return flight, behind Luca Borsa, Vallerga e Boelinger. On th eright Morsac, Walter, Paolo Mori just returned from his mission experience inAfrica and Angelo Porazzi more than satisfied of this gathering.
In the afternoon I had the time to test TUAREG the prototype more appreciated of Francesco Berardi, as said by author himself. He meet me on the net, came to visit me on holiday with Sargon and since then I meet him at many luding con. Good move and also interesting game: to optimize precious stones, water and other goods on the back of your camels.
When lady of catering brought me coffe at table I was dreaming: " " am playing, I am with good friends and also have my coffe on the table".
To the next Con and my compliments to all people who organized IDEAG 2006.
Ciao:)
Angelo