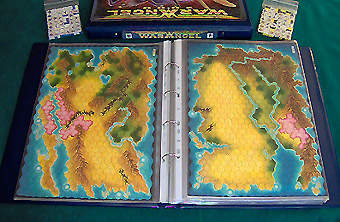 The Map Collector showing Eagles' Map (USA west with Grand Canyon and California separated by San. Andreas chasm, perfect land for Eagles) and Ghelates' Map (Iraq, with Tigris and Euphrates rivers and a large sector of desert, specialzation terrain for this army).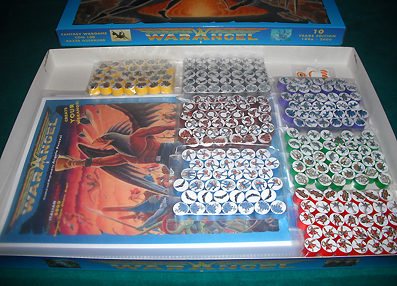 The Box containing the Warangel Rulebook and many Races you choose, kits with premounted, painted woodenpawns, ready to play.
25th ANNIVERSARY WARANGEL BOX and MAP COLLECTOR
For gamers who like to collect the great number of Races and Maps available in Warangel universo, is available this Map Collector with Logo and illustrations of the game, on Cover and Back.
It is really useful to collect A3 format plastic shields that perfectly contains and protect the Warangel hexed Maps. You can open the metal rings and take the Maps you will choose for each battle. During your battles, use your Maps inside their plastic shields, this will protect them perfectly.
See the VIDEO of the 25th Anniversary Warangel Box and the Map Collector Here.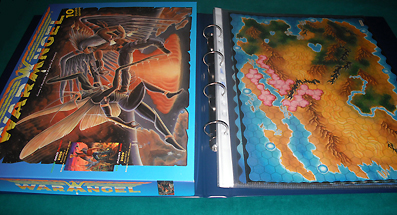 2) The Box, containing the Rulebook and the Races, fits perfectly inside the Map Collector which keeps in order every choosed Map thanks to the metal ring and perfectly protects the Box with a cover that is much more resistant of the Box itself.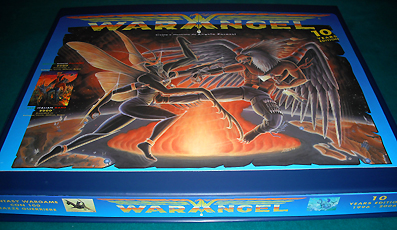 3) The Map Collector, folded, perfectly holds the Box and every element of the game choosed by the player: the Reference Sheets, the Races, the Maps you can choose to "Create YOUR Warangel".