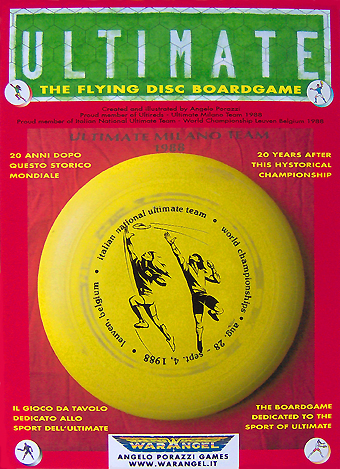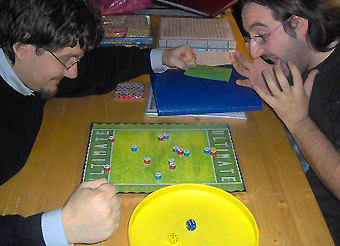 ROLL YOUR DICE IN A REAL DISC AND YOU'LL WIN!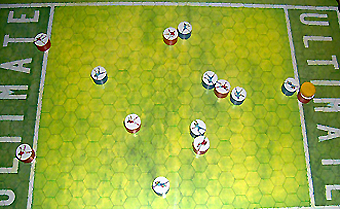 ULTIMATE
Boardgame Dedicated to the Sport of Ultimate Frisbee
Ultimate is a fast and incredibly funny sport, easy to learn and playable by anyone. I had the honour to be selected for Ultimate National Italian Team back in 1988, and play in the World Championship in Leuven, Belgium, together with National Teams from, Australia, Japan, South Africa, the USA, Canada, from many countries of Europe and around the World. It was an amazing experience.
In 2008, 20 years later, being now a game designer, I decided to dedicate to this great sport a boardgame.
It is similar, in game concept and field, to American Football: you score 1 point if you receive the disk in your opponent End Zone, but here there is no contact between athlets and no referee. The Utimate Spirit is: be honest, play at your best, respect opponent and JUST HAVE FUN!.
ULTIMATE is an home made boardgame, I created and illustrated.
Any gamer who wish to receive his own customized copy just contact me anporaz@libero.it
I ship any of the homemade games you see on my website every day worldwide; PayPal are available: just choose what you like on WWW.WARANGEL.IT and I will ship these games I enjoy create and illustrate at your home.
On the left, the very first official Goal, realized by the Team dedicated to my Ultireds Milano 1988 against the Blue Team.
ULTIMATE was premiered at ESSEN SPIEL Fair 2008, Germany: Sold Out on day 2, here the PhotoReport.

ULTIMATE was also first sponsor of Word Tournament in JEJU South Korea 2010
Angelo Porazzi and ULTIMATE wereGuest at World Ultimate Club Chmpionship 2014 - LECCO, Italy at FIFD Booth (Federazione Italiana Flying Disc) Thanks to Dario Lucisano, here the PhotoReport of that Wonderful Days
For any info or order worldwide just write me, you are welcome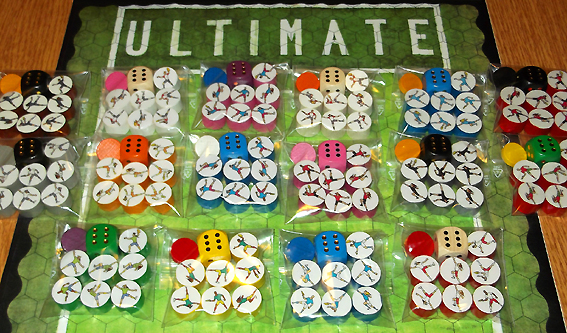 Since 2014, you can request any single Team you wish to receive in the game, with the combo colors you prefer! In the picture, a little exampre of the "combo" colors (T-Shirt, Shorts, Socks) and many available teams each one protected in in its plastic zip-bag.
COMPONENTS

1 Hexed FIELD, A3 format, full color, protected in a laminated shield.

1 RULESHEET , A4 format, full color, in English, protected in a laminated shield.

Each TEAM you choose, is composed by 7 Athlets mounted on colored wooden pawns, 1 Die and 1 MiniDisc as you see in the picture aside.

1 Warangel Card Sleeve to contain and protect your ULTIMATE copy

You can request your copy of the game with 2 or more Teams, choosing the colours you prefer!

For any info or order just write me, you are welcome anporaz@libero.it

PayPal available

The cost for this home made game realized one customized copy per time, is 10 euro for Field and Rulesheet - 5 Euro per Team in the colors you request, 10 euro of shipping contribution worldwide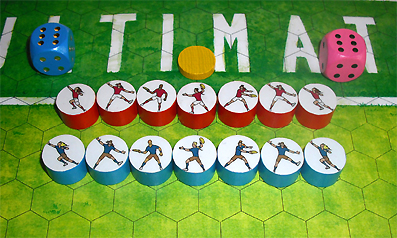 The teams realized with the colors of Stanford and Berkeley University requested by USA gamers.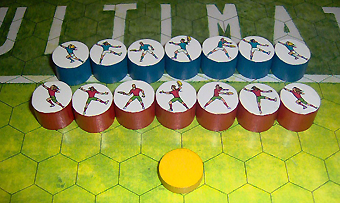 This Ultimate player from Portugal ordered the two national Teams of Portugal and Italy, in the colours he requested.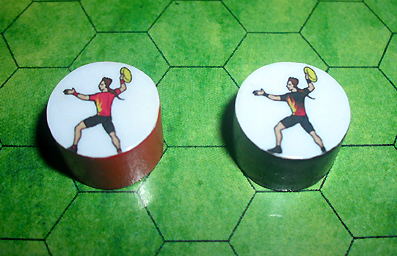 This Ulti player from FireStorm Australia requested customized Shirts with flames as you see and short socks to give a more modern looking. Everything is possible: just ask, about the work and its price we arrange.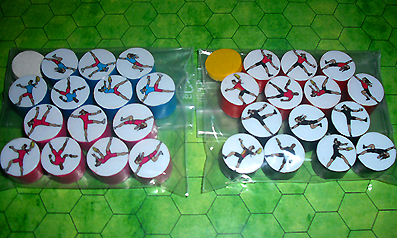 The customized Lovers from University of Queensland Australia with their double team: Blue, Pink, and Pink, Pink; the other is the double team of the FireStorm with the two captains with flames.
Create YOUR Ultimate
This service allows each gamer to pre-order his own copy of ULTIMATE with two teams of his choice, just as you can do with Create YOUR Warangel, choosing from among 120 Warrior Races available, created for that, light, family wargame.
If you play or you are fan of a real Ultimate Team, just order your teams in the colors you like. Or just CHOOSE your favourites among the available ones (T-Shirt, Shorts, Socks):
Ultireds Milano 1988: Red, White, Red or Red, Black, Red
Rastas: Green, Yellow, Red
BlackDragons : Black, Black, Black
Japan: White, Orange, White
Northerners: Light blue, Blue, Light blue
WhiteTeam: White, Red, White
Italy: Blue, White Blue
Portugal: Red, Green, Red
HellGate New York: White, Black, Black
GreyTill, New York and ExtraDry, Venice: Orange, Black, Orange
Wanda, Endicott USA: Gray, Orange, White
Trudge, Endicott USA: Green, Brown, Yellow
Sludge, Endicott USA: Brown, Black, Brown
Victoria University, New Zealand: Yellow, Black, Black
France: Blue, White, Red
Gators: Orange, Green, White
Grover, Winnipeg, Canada: Orange, White, Orange
Germany: White, Black, Yellow
Yellows: Yellow, Green, Yellow
Australia 1: Green, Purple, Yellow
Australia 2: Orange, Blue, White
Stanford University USA : Cardinal Red, White, Cardinal Red
Berkeley University of California USA: Blue, Gold, Blue
FireStorms Australia Black: Black, Black, Black (Flames on Captain)
FireStorms Australia Red: Red, Black, Red (Flames on Captain)
Lovers University of Queensland Australia: Blue, Pink, White
All Pink: Pink, Pink, White
All Blue Hawaii: Blue, Blue, Grey
All Red Honolulu: Red, Red, Gray
CHOOSE, REQUEST YOUR OWN TEAMS and...
Create YOUR Ultimate!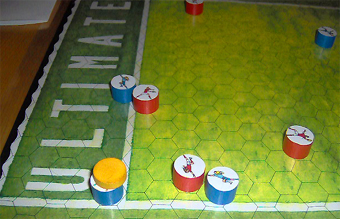 A nice goal of the Blue Team at Ideag 2008: Jost Schwider against Walter Obert.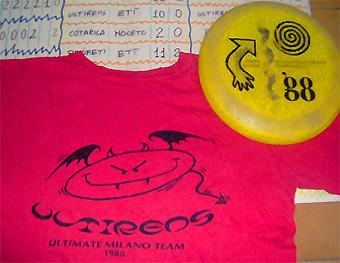 Ultireds T-Shirt, results of 1988 first Italian National Championships and the myhtical Disc of Ultimate World Championship held in Leuven Belgium 1988.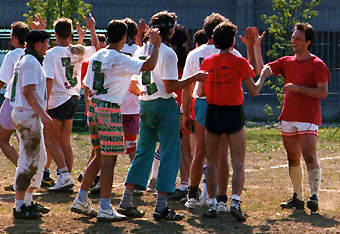 Angelo with the Ultireds... only 20 years ago;)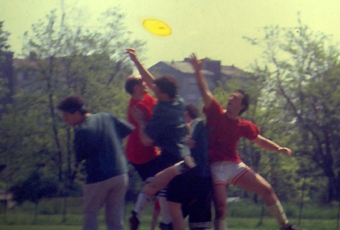 Remember: NO CONTACT among athlets!;)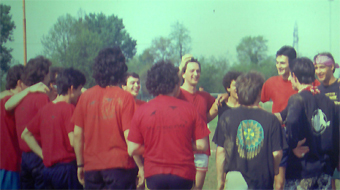 Angelo and mighty Osvaldo Della Flora, our Ultireds Milano and National Ultimate Team Coach, the tallest on the right.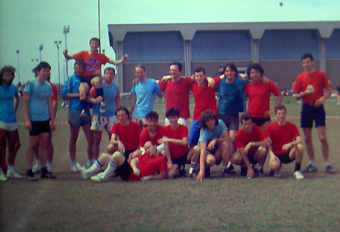 Ultireds at the 88 European Championships, Milano.
HOW TO PLAY

ULTIMATE is a boardgame for 2 players, dedicated to the sport of Ultimate.

In the real sport and in the Ultimate boardgame, two teams of 7 athletes compete to launch and receive a Freesbee in the opponent's end zone, scoring 1 point.
In the boardgame, the team who first scores 3 points wins.
Or, players may agree to the best score after 15 or 30 minutes.

The game board is a hexed field.
The team in possession of the disc may:
MOVE one athlete OR LAUNCH the disk

When an athlete receives the disc, he must stop in place, but his teammates may still run and receive the disc. In doing so, the team attempts to receive the disc inside the opponent's end zone.

Before launching, the player must declare the pattern of the disc that, on the hexed field, may be along a straight line or along a "two segments line" forming an angle of 120 degrees, see pattern examples on rulesheet .

The team on defense can move one athlete per turn trying to:
-make pressure on the disc keeper, by moving a defender close to him
-place athletes near each possible receiver to improve possibilities of deflecting or intercepting the disc.
If this happens, the defense can immediately take the disc and start from that point, in opposite direction.

Defenders may intercept if they are close to launcher or receiver and if the disc pattern is over or adjacent to them.

All athlets have different bonus for launching, receiving and defending.

This game is very easy, much more easy to play than to explain. Only must is: roll your dice in a REAL DISC, see first picture of this page, and you'll win!;)

ULTIMATE Created and illustrated by Angelo Porazzi, 2008 Proud member of Ultireds Milano Team 1988
Proud member of Ultimate National Italian Team
World Championship - Leuven Belgium 1988.

For any info-order: anporaz@libero.it

First Comments on BoardGameGeek thanks to Vincent Gilles (Ultimate Player) from France, Christian Lemay (Ulti Player) from Canada, Tommy Nomad (Ulti Player) from Australia...
The blue t-shirts I designed for National Italian Ultimate Team, starting the World Championship Leuven Belgium 1988. Our Coach Osvaldo Della Flora is in the middle, Angelo the first on the right: those were the days!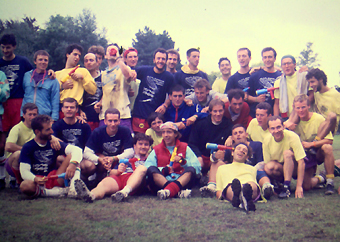 The National Italian Team of Leuven 88, basically composed from our two Italian historical teams: Cotarica Rimini and Ultireds Milano.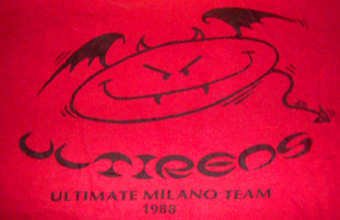 The official Logo of Ultireds Milano, i designed for our T-Shirts... which still lives after 20 years!