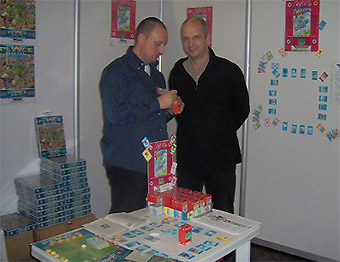 Andreas Seyfarth author of Puerto Rico was so gently, one of my best memories of my Essen 2005. He heard with attention at one of my thousands demo games of TATATA!, he showed interest for the game and wish to buy his own copy. He also wished to have my sign on the little red box: in that moment my legs was trembling for emotion: a such important author and so a simple and friendly person. He was host for second time at our most important luding con in Italy, ModCon, and says he will be present all next years due he really appreciate ouf "Italian Passion" in creating games and our way to live this luding world.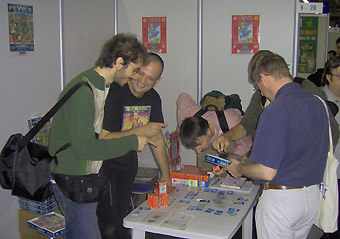 Here Martin from Germany (the one covered by gamer with blue shirt) is explaining all my games to interested gamers. He meet me in Essen 2004 and appreciated all of my games, starting from Warangel he appreciates most, PeaceBowl that is explaining here and the latest TATATA! for which he wrote the german translation. The german boxes of TATATA! really flied away, mostly in first two hours of the fair while I was just decorating booth's wall!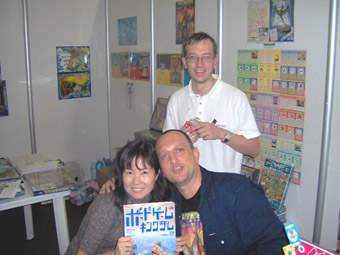 Here is one of my distributor in far Japan, kind Kanako Wakuy from Tokyo that was really interested in TATATA!, wrote me before Essen and meet me at my booth to take the game in distribution. Back Fabrizio Paoli with TShirt of Da Vinci, one of our members that will judge the Best Italian Game 2005 and will cure the show "Made in Italy" in LuccaGames 2005 where the best italian games distributed in the world will be shown.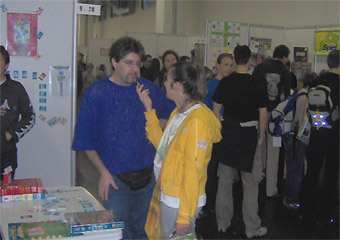 Here at my booth we have Roberto Saranga, one of best game communicators in Italy (colonnello Vincent on BGG), focused not only on boardgames but also and mostly on Abstract Games: he cures the website Abstracta that try to spread ancient mastrepieces like GO in a country like Italy who has a really young gaming culture. He is inteviewed by Giorgia Pandolfo that cures the website Eventi Ludici, in my personal opinion one of best Italian journalist: very young but very active in every single luding con, she was at her first Essen, interviewing the large number of Italians that received big attention also from German journalists.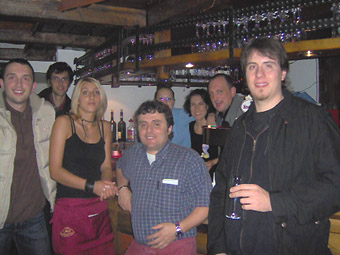 Here we are in one of our after-fair evenings: host in Pinocchio restaurant, just in front of the fair, Matteo, Gianluca, Cristina, Angelo and on the front the two Marios.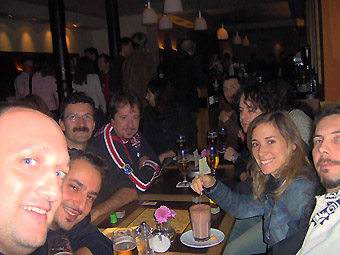 Another group that represent only a part of the many italians gamers and authors present at Essen 2005: from left the big head of WarAngelo, Tinuz, MagoG an Mapa, Willy always watching girls, Matteo, LucaS, Paoletta and Vallerga, author of Daemonibus, in my opinion and for my fantasy flavour, one of the best italian game in the fair.
At the end, another brilliant experience that I will remember for the friendly contact and respect I received from such big authors and journalists that found interest in my games I love to create and illustrate, and in general in Italian Games. To me only a word rests in mind:
WUNDERBAR!
I have to thank Knut Michael Wolf who published this Photo Report on SpielBoxOnline
http://www.spielbox.de/ix.html?/spielarchiv/sbmessen/spiel052-000.php4
I am also gratefull to Jost Schwider of SpielBoxForum that meet me many times and show lot of interest on my games, he also wrote a really good intro on Italian Games and a nice review of TATATA! here
http://www.schwider.de/spiel2005 . With Jost at my booth, was created SpielePizza www.spielepizza.de a useful site to present all interested italian authors and games to german audience. I was honoured and pleased to help with some ideas, contacts and design the logo of this site that put together Pizza and Beer!:)
ESSEN 2005
TATATA! TAkes off!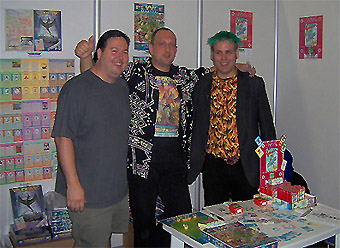 Tom of Boards&Bits, one of my USA retailers (together with kind Nick Medinger of Funagain that was so kind to meet me too, FairPlayGames and GamesinaBox), celebrates the visit at my booth 9-28 of extraordinary Friedemann Friese.
This german author is one of the most funny and genuine person I meet: he is much more important than me but introduced himself very easily and friendly, showing interest for TATATA! and Warangel he bought both. His demo booth was just at my left so I could appreciate his map of Italy he realized for his game Power Grid. He was so kind to sign a copy for me of his Italian map that I will give to dear friend Richard Doni, for two years Italian Champion of Warangel and very deep fan of Friedman's games too.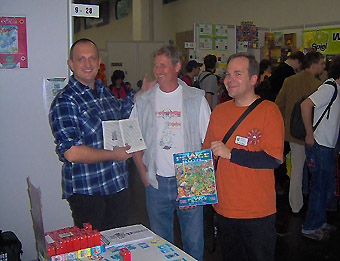 WarAngelo, Manfred Rohmkopf, journalist of Spielerei magazine and Jost of SpielBox-Forum with the beautiful 3 pages review of PeaceBowl wrote by kind Manfred who knew me at Essen 2004. Manfred and Jost are among best persons I meet in my two Essen Fairs, very passionate of their communication work, they put attention in selfproduced games and I am glad Manfred follow my sufggestion to take a look to new game of Matteo Panara and Mario Sacchi, two italian authors that selfproduced BauSquitMiao, a brand new game they asked me to illustrate.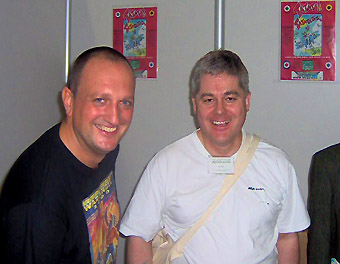 Here we see an incredibly happy Angelo Porazzi with kind Alan How of Counter Magazine, another extremely kind journalist that came to visit and meet at my booth. I found he is an old knower of Warangel, he owns the game and told me he has his armies mounted on the classic woodenblocks now at their 16th re-order of production. I never aspected such a big interest around our italian games. Maybe we are on good path.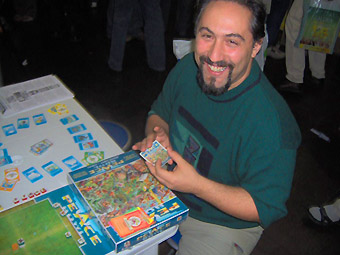 Here is Surace, one of best artists of Italian Nexus. He played FullBack here in Italy years ago when I was a 127 rating point Quarterback. Here he is enjoining a PeaceBowl match where he plowed away the poor Roberto Saranga that payed the price to play against a real football player!;)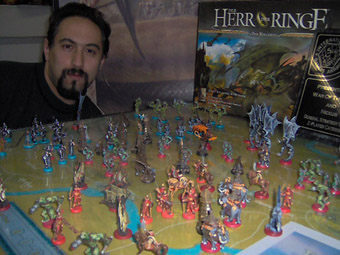 Here is his beautifull artwork: he was called by Roberto di Meglio (Nexus boss) to paint all armies of awarded War of The Ring. The big battlefield full of colours and with the brand new warriors, was one of the best in Essen 2005.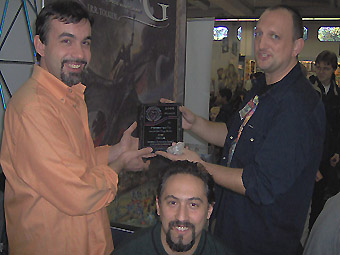 Here is Angelo Porazzi awarding Marco Maggi, one of the three authors together with Di Meglio and Nepitello of this great work. This game received the IGA here in Essen: here Warangel, the Best Italian Game 2000, is awarding War of the Ring, the Best Italian Game of 2004 and now IGA 2005. My compliments for these authors and friends of Italian Nexus.